Clapham is a beautiful town in Europe, located in South London with a population of both British and Australian people.
The town is filled with Asian and European dining, food stalls, and cocktail bars. It has great pathways, perfect for evening walks and skating.
Whether you are rolling alone or in a group of people, I will show you the best places you can grab brunch and bottomless brunch choices.
Depending on what you are looking for, whether it's a delicious snack and cocktails, or brunch on a budget, this article will give you a range of options to consider.
What is brunch?
Are there instances where you have skipped breakfast, then had an early lunch? If the answer is yes, then you have had brunch.
Brunch is a meal that often presents itself as a heavy breakfast and slightly light lunch accompanied by some cocktails or drinks of your choice.
Meeting with your friends, colleagues, family or your date over brunch is always a brilliant idea because of how fun it is. What can beat a combination of a beautiful meal and chillout over drinks in Clapham?
You will have the best bonding experiences while still tasting the most delicious delicacies of Clapham.
Bottomless Brunch
A bottomless brunch is perfect for you if you want to have a great time with a limited budget.
For a certain price and a set period, restaurants often offer unlimited alcohol and a certain number of courses that you can have for brunch. It is like a happy hour kind of arrangement.
In this article, I show you restaurants and joints where you can get the best deals for brunch and bottomless brunch in Clapham.
Here are the places where you can consider trying out both with your friends and alone.
Mommi
Tropix
Bistro Union
The Little Orange Door
The Clapham North
Osteria Mbare
Minnow
Megan's Old Town
Over Under
Gail's Bakery
Hache'
Aquum
Sweetsmiles Bakery
The Saxon
Revolution
The Perky Nel Pub
The Breakfast club
No.32 The Old Town
Canova Hall
Cheeky Chico Clapham
Story coffee
 Nue ground
The Georgian Clapham
The Hopper House
The Pear Tree
Trinity Arms
Best Brunch & Bottomless Brunch Places In Clapham
Location: 44-48 Clapham High St, London SW4 7UR, United Kingdom
Contact: +442038141818
This joint is perfect for you if you love a relaxed atmosphere, awesome food, and an amazing crowd. At Mommi, there are vegan diet options, and they serve creatively, especially cocktails.
The bottomless brunch menu is served on Saturday afternoons and has all your favorite cocktails and snacks. They also serve both red and white wine and Rose'.
I recommend this place if you want to eat, hang out with friends, and drink. The best brunch menu is served on Sundays, and what better day to relax and catch up with friends over delicious dining.
Location: 10 Clapham High St, London SW4 7UT, United Kingdom
Contact: +447432229599
Can you guess from the name the kind of theme this place has? It is tropical-themed and has the best brunch food, from tacos to steak to burgers. You will be able to relish different types of drinks if you go for a bottomless brunch served for a minimum of two hours.
Tropix is the place to go when your friends have visited your town, and you want to show them a good time. It has a beautiful ambiance with no limit to seasons. Whether during the holidays or regular seasons, Tropix remains trendy all through.
Location: 40 Abbeville Rd, London SW4 9NG, United Kingdom
Contact: +442070426400
Bistro Union in Clapham has you if you are keen on finding an eatery that will take care of you and your friends or family while giving them the best dining experience. It has very attentive and welcoming waiters with perfect personalities.
They offer dine-in and takeaway services, but I would dine in to enjoy the cool ambiance if I were you.
Almost everyone who has experienced the pancakes testifies of their yumminess. This restaurant also offers other meals like breakfast, lunch, and dinner with locally sourced food.
Location: 16A Clapham Common South Side, London SW4 7AB, United Kingdom
Contact: +442045132429
The atmosphere of this restaurant is serene and artsy, with a lot of crafty utensils and greenery displays.
They have distributed the plants and flowers and their art very creatively. It will make you feel like you have your meal in the garden.
If you love art and good-looking restaurants where you can take beautiful photos for memories, book your brunch here and make sure you try their rum during the bottomless hour, you will love it.
The aesthetics are not only in the restaurant's decor but also in their food and cocktails.
Location: 409 Clapham Rd, London SW9 9BT, United Kingdom
Contact: +442072742472
Rarely do you find restaurants with special menus for children, but Clapham North has that, and their ingredients are fresh and locally sourced.
Therefore, this restaurant is perfect for you and your family, where you can grab brunch while enjoying bottomless drinks on a Saturday or Sunday from mid-morning till afternoon.
The eatery is simple yet beautifully arranged, with each corner themed differently. Still, it is well-coordinated, making it perfect for all your hangouts, from friends to family and children.
Covid 19 made all of us afraid to eat out, but the safety measures of the restaurant will ease all your tensions.
Location: 167 Clapham High St, London SW4 7SS, United Kingdom
Contact: +442071833024
This Italian restaurant will blow your mind with how much fusion it does with Italian culture and British produce. This restaurant is perfect for surprises on birthdays when you want to hang out with the birthday girl/boy over a delicious brunch and cocktails.
You can make this place a regular spot if you are a professional working from cafes. It has a calm atmosphere with music that can help you focus. Nothing can beat the motivation of yummy bitings and cocktails after work. Enjoy!
Location: 21 The Pavement, London SW4 0HY, United Kingdom
Contact: +442077204105
Clapham has beautiful spaces to grab a meal and socialize but nowhere beats Minnow. It has a terrace that overlooks the town, a private area that is garden-themed VIP that accommodates up to ten people, and an even more exclusive space-themed cave for about four people.
Happy hour in Minnow happens every day; therefore, you can schedule your brunch any day of the week to have a good time during happy hour.
It gets extremely busy, so if you are hoping for a good time in a relaxed mood, otto book the private areas.
Location: 55-57 The Pavement, London SW4 0JQ, United Kingdom
Contact: +442034680215
Megan's Old Town has many branches, and this one in Clapham is one of them. It is located near Clapham Common station.
This restaurant has fairy lights-themed decor, lowered ceilings, and a greenery aesthetic with cozy sitting spaces.
The atmosphere is very intimate, perfect for dates and hangouts where you want to catch up with each other.
Make sure to go on Saturdays or Sundays to grab bottomless brunch where they serve Eggs Benedict and Eggs Royale and other brunch options. Try their Baked Eggs Shakshouka people love it.
Location: 25 The Pavement, London SW4 0JA, United Kingdom
Contact: +442038078019
Are you looking for brunch that will leave you with caffeine and a satisfied stomach? Over Under is the place for you! They serve coffee, food, and cocktails. You can easily work from this cafe, brunch, then finish the day off with cocktails.
You have to try their avocado toast because it is extremely yummy, and their food presentation will have you craving for more because it is so creatively appealing.
If you are a content creator who loves food, you will love this place since you will create so many beautiful memories. This spot is where I would recommend a visitor or a new resident to town.
Location: 10-12 Old Town, London SW4 0JY, United Kingdom
Contact: +442076222797
What is your favorite brunch bite? Anything baked is perfect for my taste buds in the mid-morning hours.
A bakery is ideal for getting something light yet so filling for your stomach on those lazy mornings when you want to relax from a long week of grind. You can order online.
Freshly baked bread, pastries, or cakes make a perfect brunch, especially if you are tired and looking for something to bite over a movie on your couch or nursing a hangover.
Location: 153 Clapham High St, London SW4 7SS, United Kingdom
Contact: +442077207766
Burgers are the one kind of dish that can be served as breakfast and lunch. Hache's restaurant is known in London mostly for its burgers. Try the hamkusha burger if you get a chance to eat brunch in this restaurant.
Hache' is a beautiful place to have a date with your partner on a weekend since you can both stuff yourselves with the mouthwatering burgers and then chat over the best cocktails of all time.
This restaurant in Clapham is a part of many others located in other places so you might be familiar with it.
View this post on Instagram
Location: 68-70 Clapham High St, London SW4 7UL, United Kingdom
Contact:+442076272726
Not all brunch dates have to end, and you can extend them to the night while enjoying cocktails and dancing. Aquum is a nice spot for a girls' hangout brunch, which you can extend to the night.
You will get the psych to dance the night from the comfort food you will eat during bottomless brunch, served Saturday and Sunday afternoons and Bank holidays with martinis and other cocktails.
Location: 31 Lavender Hill, London SW11 5QW, United Kingdom
Contact: +447808539168
They make sandwiches whereby you get to choose your fillings, and their cakes have a balanced flavor. Their smoothies and coffee are something you can add to your brunch order, and you will love it because there is nothing better than a coffee and pastry brunch.
This spot is small but has the best selection of dishes for brunch, and it will make your experience wholesome.
The staff of the cafe is sweet, welcoming, and attentive.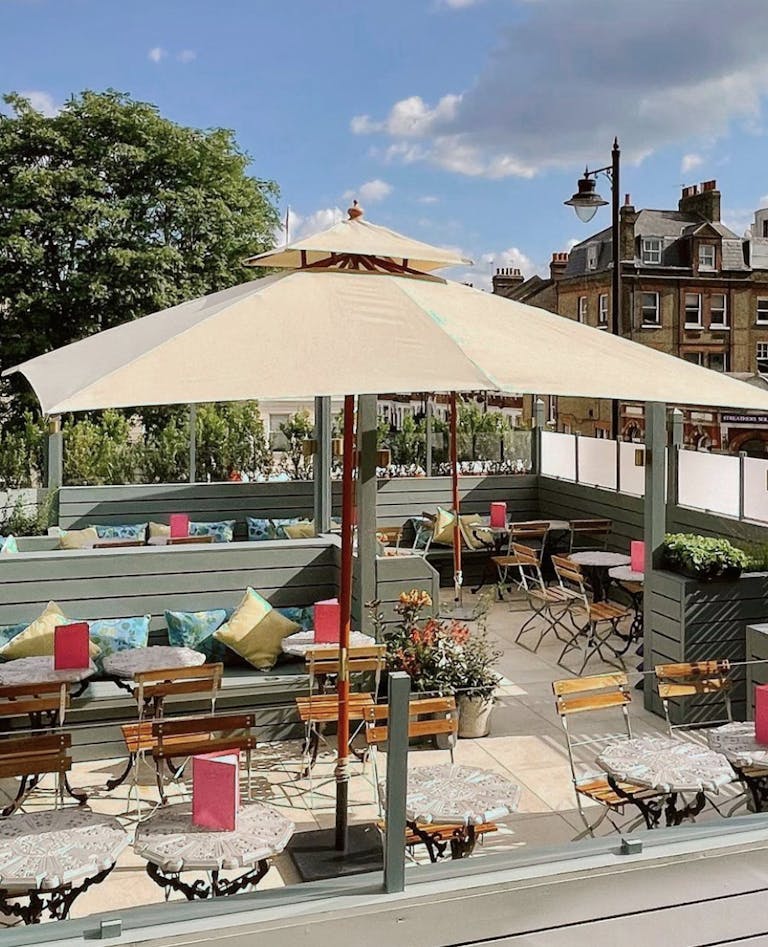 Location: 50 Clapham High St, London SW4 7UL, United Kingdom
Contact: +442078467151
You can have brunch and party, play games, or even relax with awesome music conversing with a beautiful crowd. The Saxon gives you all these options. You can even hire one of its rooftops for a private party.
Bottomless brunch at Saxon is the best decision you can ever make if you love prosecco and cocktails because they are very generous with the drinks.
Location: 95-97 Clapham High St, London SW4 7TB, United Kingdom
Contact: +442077206642
This beautiful eatery and bar have all your favorite brunch bites and different types of drinks for you to choose from.
You can book for bottomless brunch online from their website. Experience this wide variety of food choices from pizza, burgers, fries, salads, and desserts.
They have enthusiastic waiters who will be ready to serve and assist you and even give you recommendations for the best food and drink choices.
There are vegan and vegetarian offers and attention to allergies and other dietary specifics. This restaurant is where you will feel well taken care of and don't well all want that?
Location: 7-8 Cavendish Parade, London SW4 9DW, United Kingdom
Contact: +442087720303
This restaurant is pleasingly decorated and arranged with outdoor and indoor sitting areas. The Perky Nel Pub has included the dog menu; hence, I encourage you to choose it if you want a place to brunch and hang out with your dog after a weekend stroll.
Bottomless brunch options are endless, from crushed avocado to vegetarian full English meals. Try the rum cocktails, and you will instantly fall in love with the pub. It might even become your regular spot in Clapham.
Location: 5-9 Battersea Rise, London SW11 1HG, United Kingdom
Contact : +442070789630
The Breakfast Club is where you will get the best brunch of all time. I mean, you can tell from the name, right?
You can hardly go wrong when the restaurant is called The Breakfast Club. The food here is amazing, and the menu is very dynamic.
Locally world-famous is their motto; brunch is the best choice you can make while choosing your menu.
There are mixed cultures on their menu like American, French, and English. Their toasts are irresistible.
Location: 32 The Pavement, London SW4 0JE, United Kingdom
Contacts: +442035350910
The weekends are for socializing with friends or family, celebrating, or maybe just getting together. There is no better venue than The old town restaurant.
Serving you an all-day brunch on Sundays, you get to enjoy your meal from the terrace whilst taking in the sounds and sites of Clapham.
Their menu caters to dietary preferences, from vegan dishes to vegetarian, and let's not forget the meat lovers; they've got you covered too.
It can get occupied over the weekends. I would advise you to book in advance, for an experience you and your friend will cherish for a long time.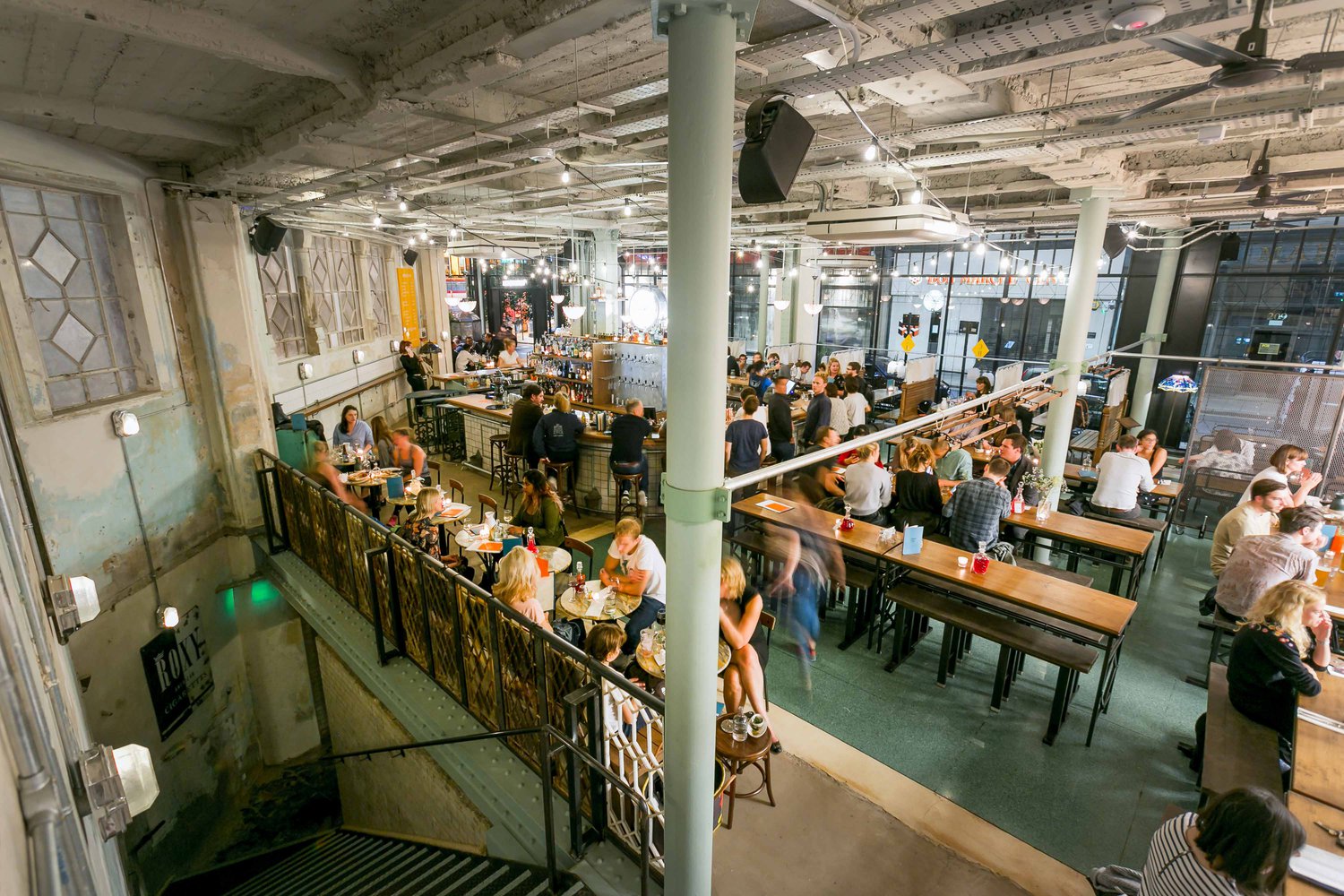 Location: 250 Ferndale Rd, London SW9 8BQ, United Kingdom
Contacts: +442077338356
Canova Hall is the place to be. Their bottomless brunch menu is served all day long, all weekend. What's not to like about that? Whether you are hanging out with your pals or your significant other, Canova hall will cater to you.
From truffle scrambled eggs to avocado on feta toast. Their menu options are jam-packed with an array of amazing food locally harvested.
And if you are wondering about drinks, how about a pink prosecco or make-your-own-bubbly cocktail, or maybe you would like a rum punch?
You really cannot go wrong here. With its amazing ambiance and excellent service, you will love Canova Hall.
View this post on Instagram
Location: 126 St John's Hill, London SW11 1SL, United Kingdom
Contacts:+442086162121
You cannot deny that Mexican food is so irresistible. Its distinct blend of spices, seasonings, and vibrant colors creates a beautiful presentation.
There is no better setting to enjoy authentic Mexican food and margaritas than Cheeky Chico's.
Cheeky chicos is the perfect palace for brunch on the weekend, with friends or even work colleagues, with its vibrant decor and to-die-for cocktails.
Once in a while, experience the best Mexican food choices from this restaurant, or if you want to impress your date, bring them, and you will feel an exotic atmosphere, making it easy for you to impress.
Location: 115 St John's Hill, London SW11 1SZ, United Kingdom
Contacts: info@storycoffe.co.uk
Do you love coffee? This world-renowned coffee production company, Story Coffee, has a cafe that serves a mean brunch.
With an eclectic menu sample, from quinoa pancakes with ricotta to a simple avocado and french toast, washed down with a sweet, full-bodied espresso.
Heads up, Story Coffee can get busy, so come early or book in advance to avoid any inconveniences. This small but quaint cafe is for coffee and brunch lovers. You can buy a bag of coffee on the way out as well.
Location: 32 Abbeville Rd, London SW4 9NG, United Kingdom
Contacts: +442075259030
Suppose health is your priority when it comes to dining out. Then Nue Ground Cafe bar is the place for you.
With beautiful, inviting decor and a menu that will leave you satisfied and nourished. A healthy selection of ethically sourced products is used to bring together a wholesome meal in addition to their unique cocktails.
Nue Ground cafe bar is also sustainable; they have taken steps to reduce their carbon emissions with the environment in mind.
With healthy, sustainable, and amazing food, Nue Ground is the future of restaurants.
Location: 102-104 Clapham High St, London SW4 7UL, United Kingdom
Contacts: +442077201551
Eating and drinking are crucial parts of Georgian culture. The Georgian Clapham, London's most authentic Georgian restaurant, serves the best home-cooked and delicious Georgian food. If you need something different, this is the restaurant that will give you that.
The Georgian first opened its doors ten years ago in Balham and now has a new branch in Clapham, which opened in November of 2021.
So why not bless your taste buds and try out this authentic restaurant and its array of amazing and delicious dishes.
Location: Ground floor, shop, 6 Landor Rd, London SW9 9PP, United Kingdom
Contacts: +442079679745
The Hopper House is your go-to place for the best coffee this side of Italy because every morning, you will see long queues of their faithful patrons patiently waiting for their cuppa. But not to worry, they have opened up this new space in North Clapham and have made it their permanent home.
With an amazing choice of meals on the menu, the Hopper House serves brunch all day. Smashed avocado on sourdough or vegan brunch, washed down with an enticing cup of coffee, this place has got something for everyone. Book early to avoid any inconveniences.
Location: Windmill Dr, London SW4 9DE, United Kingdom
Contacts: +442079242429
The pear tree gets a five-star rating on location alone. Located in the center of Clapham Common, the Pear Tree is a warm and welcoming cafe to have brunch. Serene and beautiful, this eatery is the perfect place to take your significant other and enjoy a wonderful romantic brunch.
The cafe will leave you craving an outdoor dining experience sooner rather than later. It will not be surprising if you go back again and again after the first trial. The Pear Tree has a limited menu, but the brunch is divinely delicious; that is a promise. Try it!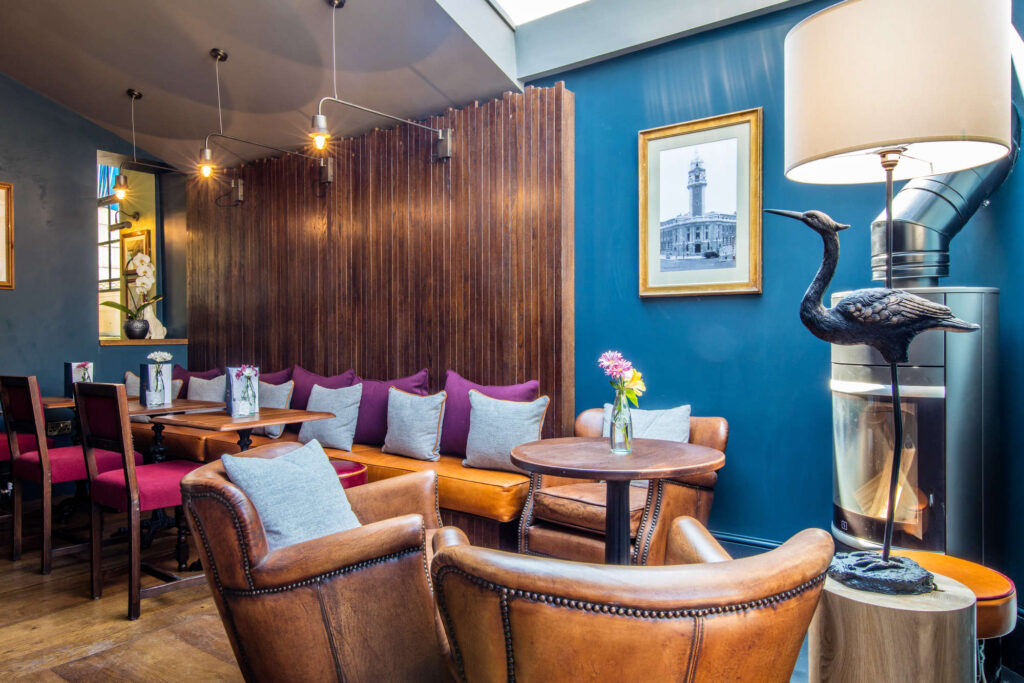 Location: 45 Trinity Gardens, London SW9 8DR, United Kingdom
Contacts: +442072744544
Sunday roast for brunch, anyone? Yes, Sunday roast for brunch may be a tad bit heavy a meal, but who cares when the food is this amazing.
The Trinity Arms pub is a pub first and a restaurant second. With a long list of amazing cocktails and alcoholic beverages, this is the place to wind down the weekend.
Trinity offers an array of delicacies on their menu for Sunday brunch, served all day. Their hidden gem is towards the rear of the pub—a stunning beer garden, complete with a warm large fire pit. If you're looking for a space to reserve for an upcoming celebration, look no further.